Thought Bubbles 07.14.17: Castlevania, Jetpens, The Tick
on
July 14, 2017
at
12:40 am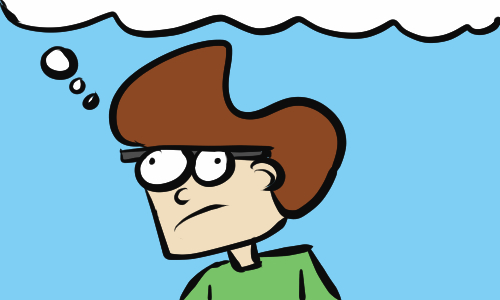 A collection of things on my mind, and/or random thoughts I don't think would make a long enough blog post on their own.
I thought of this "hot take" about a local restaurant: Over-priced and under-good.
ANYWAY. Use that, just PayPal me a dollar every time you use it in Yelp! Is that the correct way to type Yelp? With the "!"? Is it like Yahoo! in that regard? Maybe I should re-brand myself using a question mark, as "Daniel J. Hogan?"
Speaking of food, I've posted my watercolor drawings of what I ate in Cape Cod to Instagram the past couple of days. I don't really care for food photos, but photos of drawings of food is TOTALLY FINE AND NOT THE SAME THING.
Castlevania
I watched the new Netflix series, Castlevania, based on the old Nintendo game (specifically, Castlevania III). I liked it, however, I agree with this piece on /Film that it wasn't really a TV series, just a (poorly) chopped up movie. It's solid though. I like the animation and the story. I'm excited to see where it goes in the next season.
I'm still waiting for that Boy and His Blob TV series!
JetPens
I fell down the JetPens rabbit hole prior to our Cape Cod trip, and bought some new pens. Worth it, of course. But, it's easy to blink and see you have $50+ worth of pens and pencils in your basket. I cut that down to under $20, however.
But, then I remembered you can't draw with food, so MOAR PENZ.
Spider-Man
As of this writing, I still haven't seen Spider-Man: Homecoming. I want to, of course. Then I remember there was a time I wouldn't wait so long to see a Spider-Man movie. I used to be very much into Spider-Man, but that changed in the years after the first couple Sam Raimi films.
I never saw either of the Andrew Garfield Spider-Man films (Spider-Men films?), and from what I've heard, I didn't miss anything.
The Tick
Also on the subject of insect-based superheroes, The Tick returns to TV in the form of a new Amazon Prime TV show. I'm excited. I enjoyed the pilot last year and I can't wait to see a full season.
I still believe if Mystery Men came out today, it would be a big hit. The world wasn't ready for satirical superhero movies in 1999.

-
Daniel J. Hogan is a geeky cartoonist and writer living in Michigan. Daniel is available for freelance writing and cartooning commissions (Contact Daniel). This post contains affiliate links, unless it doesn't.
Facebook :: Twitter :: Instagram