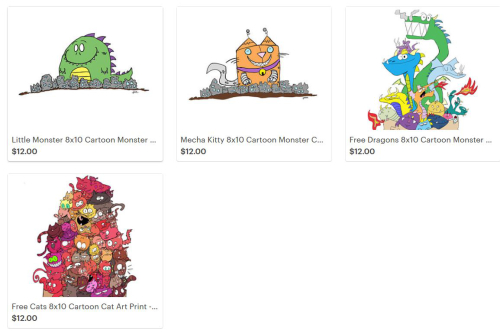 I added four of my 8″ x 10″ prints to my Etsy shop over the weekend (danieljhogan.etsy.com). These come from my stock of prints I get made to sell at comic conventions, so they were all printed locally here in Lansing. They are all cut to 8 inches by 10 inches, and should fit any 8″ x 10″ frame.
What I Added to Etsy
The prints are:
These are some of my most popular prints, ever. Free Cats is a frequent hot seller. So much that I started selling 11″ x 17″ copies of Free Cats. I don't have those for sale in my Etsy shop just yet, but I probably will. I have to figure out the logistics of mailing an 11″ x 17″ print first.
Quantity
There's three copies available of each print, except for Free Cats, which only has one. Each print comes in a protective plastic sleeve, with a sticker, and a hand drawn thank you note. On the back of the note is a coupon code for your next purchase. It's my special way of saying thank you! (I plan on sending out postcards to those who bought stuff recently before I made this code)
My 15% off Etsy sale doesn't apply to these prints, but you still get free shipping. The sale ends on December 15th, so get some original art while you can.
More Gift Ideas
If you are looking for other gift ideas, check out my Society6 shop too. You can buy items with the designs above, including t-shirts and more. If you have never shopped on Society6 before, I recommend signing up for their newsletter, because they seem to have sales all the time.
If want to give someone an ongoing gift, you could sign up for either my Mail Pal 1 or Mail Pal 2 rewards on Patreon. I'll mail them a piece of original art every month for as long as you pledge.
NOTE: Patreon changed their fee structure, so the prices are now $10.64 and $20.93 a month, respectively. I'm sticking with Patreon for now, even though I'm not a fan of this new change.
Happy shopping! And thanks for your support!

-
Daniel J. Hogan is a geeky cartoonist and writer living in Michigan. Daniel is available for freelance writing and cartooning commissions (Contact Daniel). This post contains affiliate links, unless it doesn't.
Facebook :: Twitter :: Instagram